Connectivity
Connectivity inevitably means choosing supplier partners. In our case it also means designing a network so that any problems they have do not affect our performance and therefore our clients.
The HastNet network architecture is absolutely central to what we do. It has been designed and built by us, integrating with key peering and transit partners to extend our reach worldwide.
The HastNet network comprises a number of Tiers - these Tiers are for used for explanation, they are not to related to the 7 Layer network model.
Tier 1. Within our Data Centre, two Core Routers of HastNet design run BGP to interface with and announce routes to the internet. They constantly monitor each other and mirror live sessions so that any failure or management intervention on one router leaves the other still running to minimise impact on the user from any routing change.
Each Core Router connects to the internet via private HastNet fibre links. These fibres are diverse, running in physically distinct bundles and terminating in different POP locations - one at Bonnington House and the other at Harbour Exchange in London Docklands. Our fibres are configured to run fast, at up to 10 gbps currently.
Tier 2. Connects our Bonnington House and Harbour Exchange Points of Presence to two private and dedicated Wide Area Networks or WANs, built as a high reliability rings and operated by two totally independent core network partners, each with multiple POPs. These POPs are in major Internet interconnection hubs alongside major suppliers and ISP services.
Tier 3. From any of these WAN POPs HastNet can cross-connect to suppliers or clients who share the same POP, connecting privately and securely to them via the core partner WANs. All the main providers are available to us at this level, providing access to literally hundreds of peering partners, with whom we enter into direct contract for swapping connectivity where there is mutual advantage in doing so. (See panel). It is through these providers and partners that we then connect to the public internet.
Tier 4. The public internet.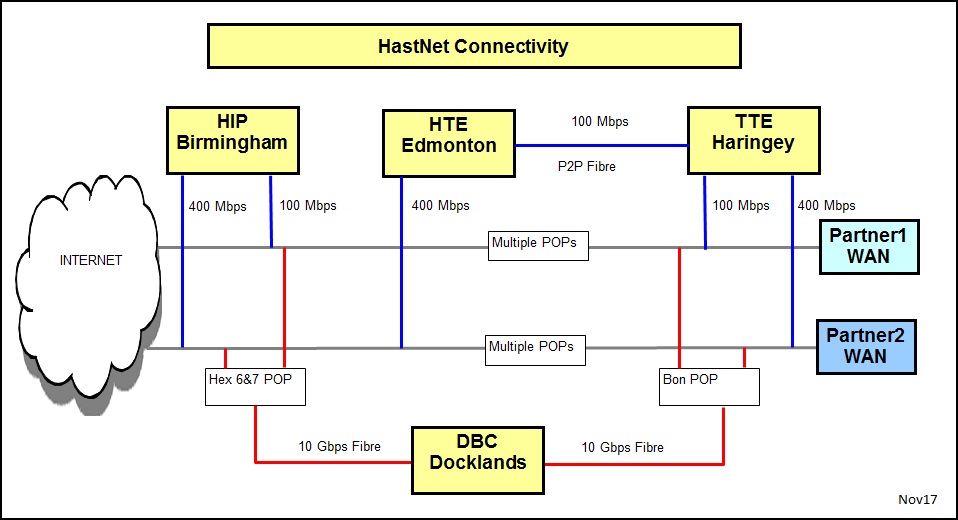 &nbsp
There are many advantages flowing from this architecture which are made possible by the fact that HastNet is a member of RIPE and therefore in control via BGP of both incoming and egress routing. Many routing changes are made in real time and automatically in response to both signalling and monitoring. Transit can be optimised for reliability, performance or cost. Availability is secured by the diverse fibres and our distributed core partner WANs, making it quick, easy and cost effective for clients to connect to us from existing facilities.